News item needs title
February 5, 2014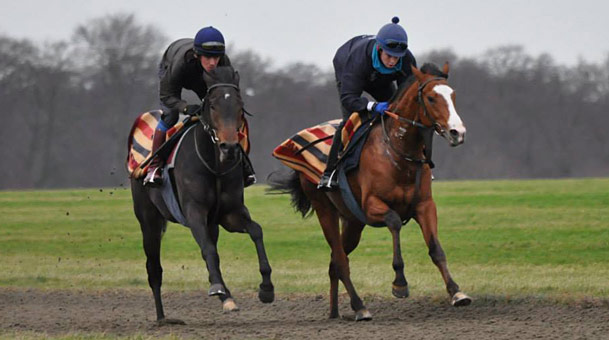 RUTLAND BOY took off this afternoon from Heathrow on route to Dubai. I am sure that he will appreciate leaving the foul weather behind in this country for a sunnier and warmer destination. He did his last piece of work yesterday and pleased the boss before heading off at lunchtime. Gill arrived yesterday to prepare and get sorted out for the horse's arrival and he will have an easy couple of days before being prepared for his first race, which is the Firebreak Stakes on Thursday 13th February. Fingers crossed he will get a smooth run and head for the race in top order.
The horses have now resumed cantering and so far things have gone very smoothly. We have had no problems at all with the transition of trotting back into cantering. When the weather improves a bit we will start getting some photographs of the string and it will not be too long before they start their Saturday morning canters up the Al Bahatri.
Tomorrow we have three horses going through the February Sales. SOVEREIGN DEBT has to be one of the pick of the sales and it will be really disappointing to see him go. He is a decent horse as his form shows and hopefully there will be plenty of interest in him. Also going through is TAUTIRA who heads into the sales on the back of her win and on the evidence of that run she should be capable of going in again. Our only other entry in the sale is EXCEEDING POWER who again is another who is capable of winning races.
We have no entries at present apart from the Dubai races and things have certainly quietened down for us here. We still have a few for the all weather with FASHION LINE being our pick at present